SNOM phones
The German company SNOM Technology GmbH is one of the leading manufacturers of VoIP equipment, which ranks among the world's top in terms of quality.

SNOM's VoIP devices deliver professional quality and reliability, modern design and excellent technical features. With a wide range of models, they are suitable for any modern office.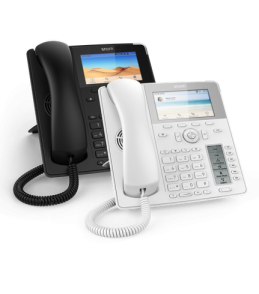 The company was founded in 1997 in Berlin and already in 1999 introduced the first SNOM 100 phone based on the H323 protocol. In the following year, the phone received SIP support. In 2005, the famous SNOM 3x0 phone series was introduced, thanks to which the company became more widely known. In the following years, the product portfolio was expanded to include the M series of cordless telephones, the MP series conference phone, the new D3x5 and D7x5 series, as well as its own PBX.
Basic series SNOM D1XX

SNOM D120

Simple IP telephone Snom D120.

It has 2 SIP accounts and is equipped with a graphic backlit black and white display with a resolution of 132x64 pixels.

2 SIP accounts

PoE power

Backlit graphic display
Call light indicator

4 context buttons

5 programmable function keys


PRICE: 60€

Mid-range series SNOM D3x5

SNOM D315

Mid-range phone Snom D315.

It has 4 SIP accounts and is equipped with a graphic backlit black and white display.

4 SIP accounts

PoE power

Backlit graphic display

Call light indicator
4 context buttons

5 programmable function keys

USB port

PRICE: 147.60€

Office IP phone Snom D345.

It supports up to 12 SIP accounts and features a graphical backlit black and white display and a second display for contextual programmable buttons.

12 SIP accounts

PoE power

2x Backlit graphic display

Call light indicator
4 context buttons

12 programmable function keys


PRICE: 235.60€

SNOM D345

SNOM D385

Professional IP phone Snom D385.

It has up to 12 SIP accounts with a large 4.3" colour display. It also features a second black and white display for programmable buttons.

12 SIP accounts

PoE power


Backlit colour graphic display

Black and white display for programmable buttons
Call light indicator

4 context buttons

12 programmable function keys


PRICE: 239.40€

Expansion module for D3xx series phones.

18 programmable function keys


possibility to connect 3 modules in a row

graphic black and white display

PRICE: 159€

SNOM D3

Mid-range series SNOM D7xx

SNOM D712

Reliable and simple IP phone Snom D712.

Suitable for any office. It has 4 SIP accounts and features a 3.2" graphic backlit black and white display.

4 SIP accounts

PoE power

Backlit graphic display
Call light indicator
4 context buttons

5 programmable function keys


PRICE: 127€

IP phone Snom D715

It has 4 SIP accounts and is equipped with a 3.2" graphic backlit black and white display. Compared to the D712, it also has a USB port and a gigabit switch.

4 SIP accounts

PoE power

Backlit graphic display
Call light indicator

4 context buttons

5 programmable function keys

USB port

PRICE: 132€

SNOM D715

SNOM D725

IP phone Snom D725

It has 12 SIP accounts and its main advantage is up to 18 programmable buttons, USB port and gigabit switch.

12 SIP accounts

PoE power

Backlit graphic display
Call light indicator

4 context buttons

18 programmable function keys


PRICE: 199€

Professional office IP phone Snom D735

It supports 12 SIP accounts, has a 2.7" color display and 8 programmable buttons.

12 SIP accounts

PoE power


Backlit colour graphic display

Call light indicator

4 context buttons

8

programmable function keys



gigabit switch
motion sensor
USB
white or black variant

PRICE: 199€

SNOM D735

SNOM D745

High-end IP phone Snom D745

It has 12 SIP accounts and is equipped with two graphic backlit black and white displays. With a second display, it allows you to set up to 8 (32) programmable function keys.

12 SIP accounts

PoE power

Two backlit graphic displays
Call light indicator

4 context buttons

8 (32) programmable function keys

USB
gigabit switch

PRICE: 227€

IP phone Snom D765

It has 12 SIP accounts and is equipped with a colour graphic backlit display. It allows you to program up to 12 function keys.

12 SIP accounts

PoE power


Backlit colour graphic display

Call light indicator
4 context buttons

12 programmable function keys


PRICE: 243.80€

SNOM D765

SNOM D785

Top of the range IP phone Snom D785

It has 12 SIP accounts and two displays. A main 4.3" colour display and a smaller black and white display for function keys.

12 SIP accounts

PoE power

Two backlit graphic displays (colour and black&white)

Call light indicator

4 context buttons

6 (24) programmable function keys

USB
WIFI
gigabit switch
white or black variant

PRICE: 247€

Expansion module for D7xx series phones

18 programmable keys


possibility to connect 3 modules in a row

Backlit graphic display




PRICE: 159.60€

SNOM D7

Conference phones

SNOM C520

Elegant conference phone Snom C520

It has 3 SIP accounts and is equipped with a graphic backlit black and white display with a resolution of 158x57 pixels. Three microphones ensure perfect and clear voice transmission. Two of them are wireless and portable up to 50 meters.

3 SIP accounts

PoE power


Backlit graphic display

Call light indicator
3 context buttons


expandable by up to three sets of additional SNOM C52 microphone

PRICE: 391€

Cordless phones

SNOM M700

SNOM M700 wireless DECT base station

The SNOM cellular DECT system allows up to 253 base stations to be connected to a single system, thus connecting up to 1000 handsets. Up to 30 handsets can be connected per base station. The range is 50 metres indoors and up to 300 metres outdoors.

10 SIP accounts

253 DECT M700 base stations in one system
1000 DECT cordless phones in one system
30 DECT cordless phones per base station
Snom M5 repeater support
PoE power
8 simultaneous calls

PRICE: 359€

DECT system with Snom M325 base

The base allows you to connect up to 20 handsets and make 5 simultaneous calls.

20 SIP accounts for 20 handsets

PoE base power


Backlit graphic colour display 128x128 pixels

Range of 50 to 300 meters
2xAAA battery in handset

75 hours standby mode

7 hours operating time

PRICE: 218€

SNOM M325

SNOM M25

DECT additional handset SNOM M25

Wireless DECT phone with 1.7" colour display for
SNOM M300 base station or for multi-cell
M700 system.

1.7" colour display with 128x128 pixel resolution

power supply 2xAAA batteries

Range of 50 to 300 meters

75 hours standby mode


7 hours operating time

illuminated keypad

PRICE: 136€

DECT additional handset

SNOM M65

Wireless DECT phone with 2" colour display for SNOM M300 base station or M700 multi-cell system.

2" colour display with 176x220 pixel resolution

power supply by lithium battery 1100mAh

Range of 50 to 300 meters

250 hours standby mode

18 hours operating time

3.5 mm jack for headset connection

PRICE: 227€

SNOM M65

SNOM M85

DECT additional handset SNOM M85

Wireless DECT phone with increased water resistance
and dust protection. It has a 2" colour display and is designed for base
SNOM M300 base station or for the M700 multi-cell system.

2" colour display with 176x220 pixel resolution
power supply by lithium battery 1100mAh

Range of 50 to 300 meters

250 hours standby mode

18 hours operating time

3.5 mm jack for headset connection




PRICE: 519€
Write us your question or inquiry